Welcome to Hardware 101! Your resource for Hardware Basics, Hardware Installation, Hardware Selection Tips, Materials & Finishes, and more.
Contact Neu's Hardware Gallery to schedule your one-on-one selection. Our trained staff will assist you in finding just the right Hardware for your space – working within your Style and Budget to find just the right knobs, pulls, locks, bath hardware & home accents.
Hardware Basics
Hardware Basics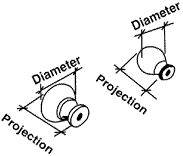 Knobs: A knob can be any shape but it is installed with a single screw. Their dimensions are noted in the illustration — diameter and projection. These can be important when looking at the clearances of doors and drawers.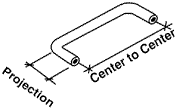 Pulls/Handles: Pulls are installed with two screws. The length of the pull can vary greatly, but the important measurement is the "center to center " screw pattern. If you are replacing pulls on current cabinetry or drawers you need to check this center to center pattern before you order- please note that you can sort by center to center measurement. Standard screw pattern is 3″. Other common sizes include 2″, 2.5″, 4″, 64 mm, and 96 mm. In addition to these customary sizes, we carry pulls that have adjustable center to center patterns, such as the Colonial Bronze #310 pull. Another important measurement is 'projection' because of door and drawer clearances. Furthermore, projection can be important for people with special needs. People with handicaps, people who are elderly, people with arthritis, and many others can benefit from a handle with a greater projection and center to center measurement.
Cup Pulls:Cup pulls are semi- enclosed pulls that employ the same dual screw pattern as a standard pull.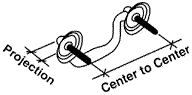 Drop Pulls:Drop pulls are also installed with two screws, but the handle portion can pivot and drop down close to the surface of the drawer. These pulls are used frequently in furniture or cabinets for style or for areas where projection can cause a problem.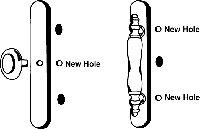 Backplates: Backplates are used in conjunction with a knob or a pull; and like pulls, the size is described by the center to center pattern. Backplates are placed between the door or drawer surface and the knob or pull for several reasons:
• To visually enhance the decorative hardware.
• To cover existing holes in the cabinet surface.
• To protect the cabinet surface.
Cabinet Hardware Hints
Helpful Cabinet Hardware Hints
Remember as you begin to look for Decorative Hardware:
Knobs and pulls can be used with either furniture or cabinetry.
There are no rules for placement of knobs or pulls. You can think of them as artistic accents as well as functional pieces.
Knobs are installed with a single screw while pulls are installed with two screws.
If you are replacing a pull, remember to measure from the center to center of each screw to determine the size pull you need for an identical replacement. However, if you are patching the holes or using a backplate, you will increase your options.
Generally a single knob or pull is used on drawers under eighteen inches wide, while drawers over eighteen inches use either two knobs or two pulls.
Knobs and pulls don't have to be the same style, but their finishes should be compatible (and remember that they also need to be in harmony with any exposed hinges)
Many of our hardware choices have warranties on their finishes. The Warranty is for normal wear, so please do not use harsh cleaners. You should only rub with a non-abrasive moist cloth; anything stronger may damage the finish and invalidate your warranty.
Install Cabinet Hardware

Installing Cabinet Hardware
Knobs and pulls are usually packaged with a 1″ long 8/32-diameter screw for installation. This should be correct for a standard application, of a door or drawer front with a thickness of 3/4″. If the door or drawer front is not 3/4″ we recommend that the screw extend into the hardware no more than 3/8″. If it is less, it may not hold well while if it is too long, the hardware could loosen. The holes should be drilled with a 3/16″ bit or larger, if necessary. Take care to drill the holes perpendicular to the cabinet surface or you might have difficulty getting the pulls to fit or getting the hardware to pull flat against the surface. Please check the pictures below to see what will work in your application. If you need another length, please designate it and we will send additional screws of another length. Occasionally, especially with custom applications and furniture, you may need to use a larger screw and cut it to size.
If you are using a collection of hardware or an eclectic grouping, lay out your hardware ahead of time to determine where and in what order you want to place it. If the sizes are different, the smaller pieces are generally put closer to the top.
Do not force the screw into the hardware, screw them in by hand, do not use a power screwdriver. If you feel any resistance just back out the screw, reposition the knob and try again. Cross threading can occur and damage the threads. Increased pressure can also damage some of the more delicate knobs, like knobs made of stones, glass, ceramic, and handmade specialty pieces. When mounting a pull, tighten the screws alternately until the pull is tightly in place.
Materials & Finishes
Materials & Finishes
Most of our hardware is either cast or machined from metal. There are various types of metals used in these processes and for different reasons. Some of the hardware is made from natural products such as stone, glass, or wood. Much of the time the finish is a different color or has a different property than the material the hardware was made from. With this vast selection of finishes and materials, you will be able to select just the right style to fit your needs.
Materials:
Zinc
Zinc is a common material for casting it is easily molten and cast is lightweight it makes a good base for a variety of decorative finishes. Because the material is softer, most of the zinc hardware has threaded brass inserts for installation of screws.
Pewter
Pewter is a jeweler quality metal with a beautiful patina in either a brushed or polished finish. Traditionally pewter is a metal for cast products, but it is quite soft and contains lead. The pewter used in our hardware products is actually a lead-free pewter alloy that exhibits the patina and design qualities of pewter but is more durable and is non toxic.
Brass
Brass is a jeweler quality metal that can be used for casting and machine fabrication. Many knobs are labeled as solid brass, and have the advantages of brass. Others are called brass finished, brass coated or have finish names such as antique english, these pieces are generally a zinc alloy cast ( you can check under our material sections) and finished with a brass coating. The advantage of solid brass is that it has a heavy feel and can show sharper detail with cast or fabricated techniques.
Resin
A solid polymer material that casts well and is durable and not brittle, used primarily for artisan designed and hand-painted items.
Wood
Both finished and unfinished in soft and hardwood varieties. Wood is used for a base on some handpainted knobs, as solid wood (usually with a brass insert for the screw) and as wood accents on metallic knobs or pulls.
Ceramic and Porcelain
Ceramic and porcelain are both a natural clay product that has been fired for a durable hard finish and is usually glazed in white of another color or can also be specialty painted and fired. Porcelain is a little more expensive type of clay, a little finer texture and has a slightly translucent appearance (like fine china). Ceramic is more common in the decorative hardware industry, it makes a durable and lustrous finish to many hand-glazed designs- Porcelain and ceramic hardware generally utilize an imbedded brass insert for installation of screws.
Glass
Glass is a common material for knobs of all sorts, it is fragile and care must be used with installation, it can be broken by dropping or by over-tightening the installation screw. Once installed a glass knob has a beautiful character they are usually faceted, and they are quite durable. There are many glass knobs still in use today that were installed in the early 1900's.
Acrylic and Nylon
Acrylic and Nylon are synthetic materials that are extremely durable (not like plastic that can fracture when dropped or fatigue with use) and can be clear or tinted in a wide array of colors. These are usually less expensive and very durable and fun for accent coloring.
Finishes:
Specialty finishes are used on many of the cast and fabricated knobs and pulls to add character and color to the hardware. There are so many options that we will not list them here. Each company has a different name for their specific type of finishes. If you know of a company's finish name that you particularly like you can sort by finish in our hardware database to see all the hardware in that particular finish. If you don't know the name of the finish but you know the color that you like you can get a cross section through all the companies by sorting with color.
Examples of finish: antique english, distressed antique copper, oil rubbed bronze, verdigris bronze, hand tinted pewter, bright nickel, satin nickel, etc.
Examples of Colors: Pewter, copper, brass, antique brass, verdigris, chrome, etc.
Selection Tips
Schedule your Hardware Selection
To ensure we have adequate time and staff to help you with your selection, please schedule an appointment.
Approximate* selection length:
• Average remodel selection 30-45 min
• Average new home selection 45-90 min
* Times vary based on size and intricacy of the project
In Preparation . . .
Please review the following questions.
What type of project? (Remodel, New Construction)
Are you working with a builder, remodeler, or designer? Who?
What is your budget/allowance for hardware?
Do you have a copy of your plans?
Start by selecting door hardware:
• Select the finish (oil rubbed bronze, satin nickel, pewter, etc.)
• Select the style (Contemporary, traditional, craftsman, modern, transitional, etc.)
• Select the knob or lever design you would like (Accent lever, Georgian Knob, etc.)
Next, select your cabinet hardware:
Start by going room to room, Kitchen is most commonly started with, then do the same as door hardware and select finish, style, model.
Determine Style & Location (i.e., Knobs/Pulls on Doors/Drawers)
Cabinet knob approximate Price Ranges:
Lower end range from $1.00 – $4.00, mid range $4.00-$7.00, high end $7.00-$13.00
Cabinet pull approximate Price Ranges:
Lower end range from $2.00 – $5.00, mid range $5.00-$8.00, high end $8.00-$18.00
Then, select your bath hardware:
It is common for bath hardware to be selected last as it is often used as a guide to coordinate with plumbing, lighting fixtures, cabinet Hardware. Again, follow the same procedure as the other hardware, finish, style, model.
Standard bathroom items consist of:
24" Towel Bar, Toilet paper holder, Towel ring & Robe hook.
A room of bath accessories can range from approximately $200-$600
Lead Times
The average lead time is about two weeks, however more custom brands and styles could take anywhere from 6 to 12 weeks. Some brands are quick to ship if the product is in stock and can get to us within a business day or two. We do offer limited brands and styles in stock: Amerock, Belwith and Emtek.