Welcome to Hardware 101! Your resource for Hardware Basics, Hardware Installation, Hardware Selection Tips, Materials & Finishes, and more.
Contact Neu's Hardware Gallery to schedule your one-on-one selection. Our trained staff will assist you in finding just the right Hardware for your space – working within your Style and Budget to find just the right knobs, pulls, locks, bath hardware & home accents.
Hardware Basics
Hardware Basics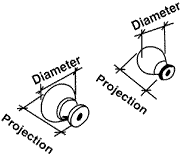 Knobs: A knob can be any shape but it is installed with a single screw. Their dimensions are noted in the illustration — diameter and projection. These can be important when looking at the clearances of doors and drawers.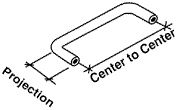 Pulls/Handles: Pulls are installed with two screws. The length of the pull can vary greatly, but the important measurement is the "center to center " screw pattern. If you are replacing pulls on current cabinetry or drawers you need to check this center to center pattern before you order- please note that you can sort by center to center measurement. Standard screw pattern is 3″. Other common sizes include 2″, 2.5″, 4″, 64 mm, and 96 mm. In addition to these customary sizes, we carry pulls that have adjustable center to center patterns, such as the Colonial Bronze #310 pull. Another important measurement is 'projection' because of door and drawer clearances. Furthermore, projection can be important for people with special needs. People with handicaps, people who are elderly, people with arthritis, and many others can benefit from a handle with a greater projection and center to center measurement.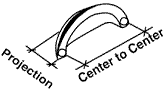 Cup Pulls:Cup pulls are semi- enclosed pulls that employ the same dual screw pattern as a standard pull.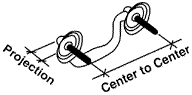 Drop Pulls:Drop pulls are also installed with two screws, but the handle portion can pivot and drop down close to the surface of the drawer. These pulls are used frequently in furniture or cabinets for style or for areas where projection can cause a problem.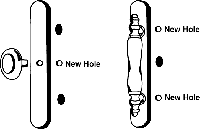 Backplates: Backplates are used in conjunction with a knob or a pull; and like pulls, the size is described by the center to center pattern. Backplates are placed between the door or drawer surface and the knob or pull for several reasons:
• To visually enhance the decorative hardware.
• To cover existing holes in the cabinet surface.
• To protect the cabinet surface.